Trak Pro can help you take your Fundraising activities to the next level!
Many Performing Arts Venues remain open due to the generosity of Patron Donors, and vigorous Fundraising Campaigns. With Tick-It! Trak Pro 3.0 you can manage Campaigns, accept Donations and Future Pledges, and generate performance reports with the same system you use for everything else!
Manage Multiple Concurrent Campaigns!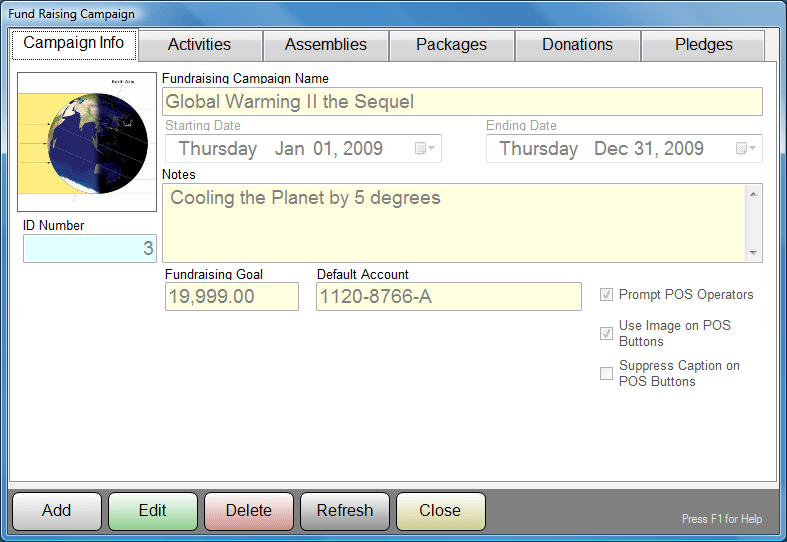 Here is a Fundraising Campaign Record. A Fundraising Name, Picture, Explanation, Account and Monetary goal are specified. You can set control options to prompt POS Operators prompted for donations. Your display buttons in the POS can display with or without pictures or captions, to aid operators. There is no limit on the number of active fundraising campaigns you can have in the system at any given time.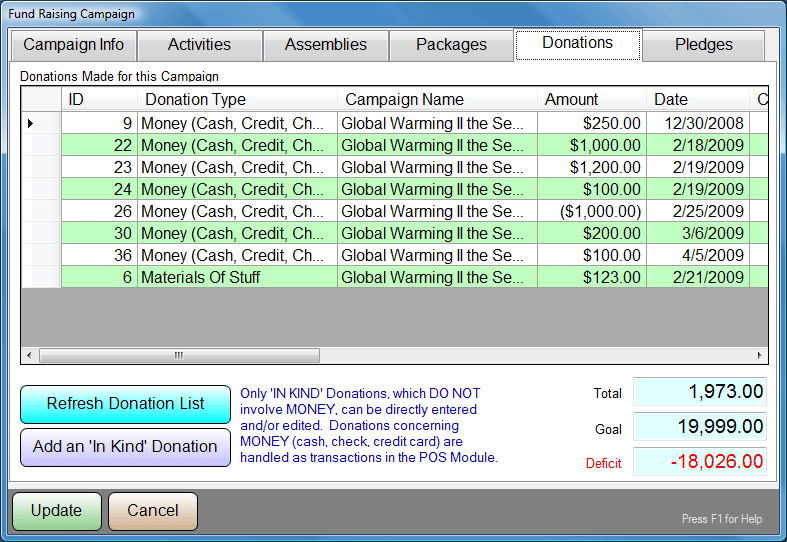 Click the DONATIONS tab for an Up-To-The-Minute report of all the donations made to this Campaign. You can see at a glance how far you have to go to reach your fundraising objective.
Incentives!
Entice people into donating by tying Sales Assemblies and Ticket Packages to specific donation levels.

Here is an example where donors for a particular Campaign that give at least 100 bucks, qualify for a Baseball Bat Necktie at 25% off. Such a Deal!

Shown above, donors giving at least 200 dollars qualify to buy a ticket package at 50% off. You can create incentives to best suit your donors. . Use your imagination!
Track MONEY donations, as well as 'IN-KIND' donations, such as labor, materials or advertising. Get comprehensive reports:

Track PLEDGES for future donations. The POS Module displays pop up reminders to these patrons whenever they transact at your facility.