Pictured here is a Reserved Seating Screen Shot, taken from the Home of the Michigan Shrine Circus, the State Fair Coliseum in Detroit. Trak Pro 3.0 can handle venues of ALL Sizes, small to large! We have customers with intimate 120 seat theatres, and 40,000 seat stadiums.
Seats (represented by circles in this example) do not have to be displayed in straight, orthogonal lines, as this example does. They can be curved, diagonal, arranged in tables, whatever your facility needs. Check out some of these examples, clipped just to show the seats: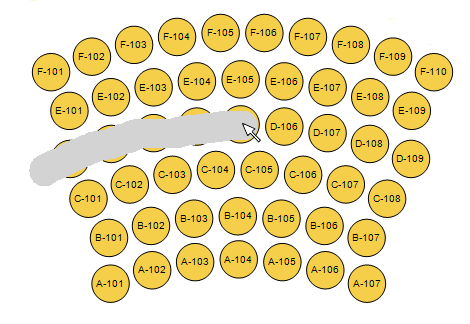 Here the operator is selecting by "finger path" on a touch screen,
a Trak Pro exclusive feature!
This example screen shot was taken from one of our sample databases, showing a portion of the center section of a fairly tightly curved "thrust" style auditorium.
Tick-It! Trak Pro has special wizards in the Venue Editor that make forming curved rows a snap! In fact, rows of seats can be straight and horizontal, tilted at any angle or curved.
Your operators and customers will have no trouble identifying their seats, because the screen will look like your venue!



Trak Pro Brochure in Adobe Acrobat PDF format


Tick-It! Trak Pro has special wizards in the Venue Editor that make forming round, square or rectangular tables a breeze! Shown here is a round 10-top being added. Non-round tables can be rotated in place for venue accuracy.
You can make diagonal rows and sections, as well as rotate seats already in place. Shown here is an operator inserting 4 new rows, but spinning them first before placing them in the venue.
Complex Curved Row geometries are a cinch using the curved row seating wizard.
Your operators and customers will have no trouble identifying their seats, because the screen will look like your venue!

You can even see your venue in true 3D!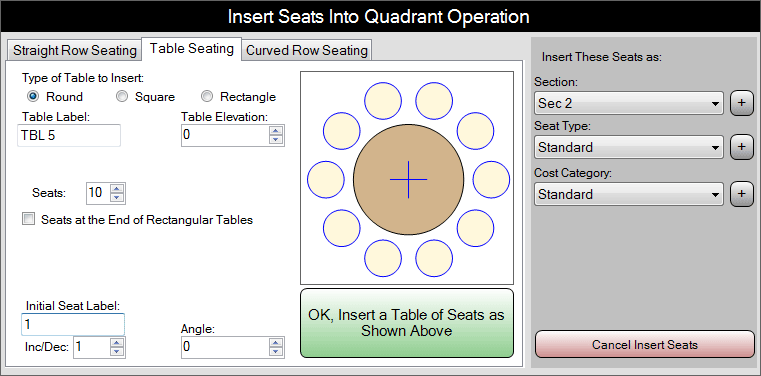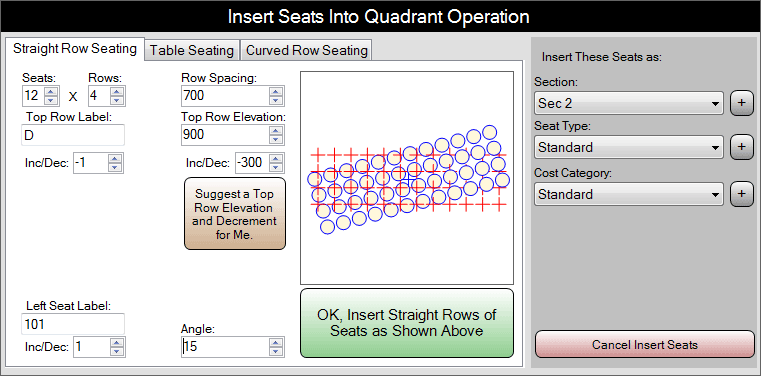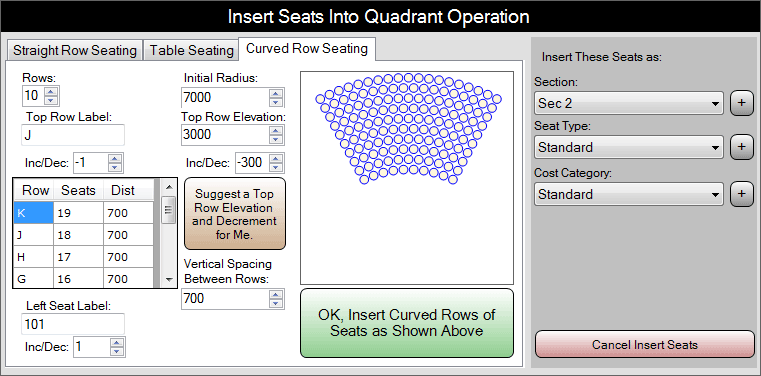 You can also sell general retail merchandise with Trak Pro in your Gift Shops!
RETAIL SALES POS SCREEN (Baseball Gift Shop)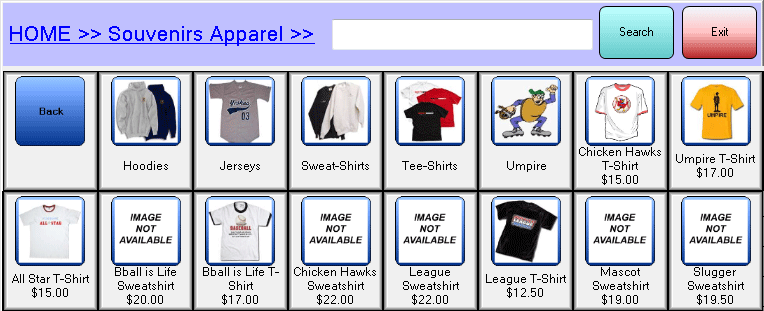 Pictured Above is a Retail Sales Screen Shot. Items shown are from a Baseball Team's gift shop. With Trak Pro, you can assign product images to your POS Buttons, as illustrated. Individual sales "assemblies" can consist of multiple inventory items, and can be categorized with many types, to make it easier for your operators or web customers to locate the items they want to buy. In the example above, the operator has drilled into the SOUVENIRS - APPAREL categories. You can also use UPC barcodes to "zap" items into your transaction, just like at any major retailer.
You can also Handle Food Service with Trak Pro in your Concession Stands and Dinner Theatres!
FOOD SERVICE SALES POS SCREEN (Snack Bar)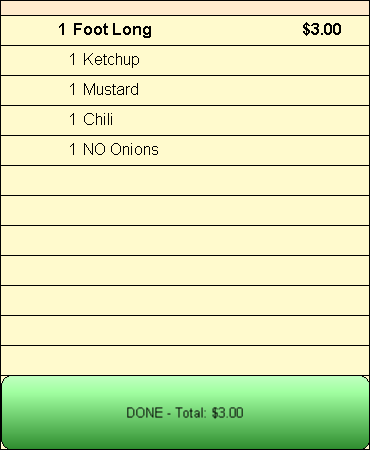 Food Service from Simple Snack Bars to full blown Restaurants is possible using Trak Pro! Pictured here is a portion of a simple concession stand menu generated by one of the Trak Pro Food Service Wizards.

As easily understood graphical buttons are clicked by the operator, a running tab of the food service items being selected is displayed for corrections and verification.

Wizards are included for Snack Bar Menus, Soft Drink and Candies, Pizza / Sub Shops and full Dinner Entrees.
Food Inventory is automatically tracked as items are sold.
Pictured Above is a Concession Sales Screen Shot. Items in the green receipt area in the upper left hand corner have already been "OK'd" by the operator. In this example that would be a Mini Pizza with extra pepperonis and no mushrooms. Currently, the operator is keying in an order of Nachos, regular size, with extra chili and heavy onions. While it is difficult to make out in the example screen shot above, reminder messages to your operators fade in and out at the bottom of the screen. We just captured this shot as the message was fading away. If you look carefully, it tells the operator to push the extra large popcorn, for increased profit. When we have a few spare moments, we'll have to collect and post a better shot.
This program has been developed using the latest 32/64 bit tools available. It is targeted to run on Windows 7 and Vista, but will also run on Windows 2000, 2003 and XP.

Mercury Payments Systems
became
Vantiv
which became
World Pay
Ultra Fast Credit Card Authorization with Global Pay / Vantiv Systems ePayment Solutions. Tick-It! Trak Prois fully integrated with this IP based processor for extremely fast credit card authorization. How fast? How about 3 seconds or less! Click on the logos above to learn more about this processor.
Unmatched, all-in-one payment solutions

WorldPay/Vantiv/Mercury® is in the business of helping businesses prosper. Accept all payment types securely and continuously with their do-it-right payment technology. Their award-winning products and services include 24/7 U.S. based support, loyalty programs, unlimited gift card transactions, real-time transaction reports and more. Plus, with 99.99% uptime, you'll always be ready to make a sale.

800.846.4472 | WorldPay.com

Trak Pro Brochure in Adobe Acrobat PDF format
| | |
| --- | --- |
| | |
| | |
| | Internet Ticketing Available Now! |
When you use Tick-It! Trak Pro you spend Less time logging Customer Seats which leaves more time for other business activities. Your Venue will present a polished, professional image with Tick-It! Trak Pro. The Tick-It! Trak Pro program will print out tickets that are laid out exactly the way you want them. Yes print your own tickets, laid out just the way you want them to look. Tick-It! Trak Pro supports ticket printing on any printer, from a Dot Matrix Printer using Tractor Fed Ticket Stock, to a Thermal Ticket Printer from either PRACTICAL AUTOMATION or BOCA or DATAMAX or WORLDWIDE TICKETCRAFT .
Click Here for a list of Ticket Stock Suppliers
Answers to Specific Questions to Help you Decide if Tick-It! Trak Pro is Right for You!
Case Studies of Tick-It! Trak Pro Installations
Click to Read what others have to say about NCS Ticketing Software

Click to Find a Tick-It! User in Your State or Country

Click to Read a Product Comparison Chart
---
KEY FEATURES
Tick-It! Trak Pro Handles ALL Ticketing Modes!
Reserved Seat Sales
True General Admission Sales
Mixed Mode Reserved and General Admission Sales
Tentative Seating Reservations, with virtually limitless hold types
Tick-It! Trak Pro is Scalable
The System is designed to handle small venues to HUGE STADIUMS!
Run a single venue or multiple venues
Conduct Sales from the Internet using direct Dot Net Apps on your web server!
Your Customer will be able to pick their own seat to any event and buy it right on the Web.
Your data is "live" and in real time, there is no reconciliation to be done later.
Sales are Performed Straight From the House Seating Diagram!
Operator Sells Seats Simply by Pointing at them.
"Dressing the House" has never been easier.
All Windows Resolution Modes are Supported. See MORE of your House in 1024 x 768 or 1280 x 1024 or 1920 x 1080!
Tick-It! Trak Pro Supports Retail Sales!
Sell MORE than just tickets! Sell Tee Shirts, Souvenirs, whatever!
Inventory Tracking of Items Sold
Supports Barcode Scanning of Retail Items!
Set Up Scheduled promotions (sales) of Retail Items!
Tick-It! Trak Pro Supports Food Service!
Tick-It! Trak Pro Handles Fundraising!
Accept Donations and Future Pledges!
Run MULTIPLE concurrent Campaigns with different goals!
Tie Promotional Retail Items to Donations!
Tick-It! Trak Pro Tracks your Inventory!
Maintain lists of inventory items for sale or other uses.
Keep Vendor Records and Issue Purchase Orders!
Tick-It! Trak Pro is Network Ready!
Conduct Sales for the Same Event from Multiple Stations.
Windows Networking, Windows 7 / 8 / 10
Tick-It! Trak Pro has an Open Data Base Structure
Uses MS SQL Server 2008 and up Data Base File Formats
Interface with other Programs, such as Word, Excel, or Access!
Tick-It! Trak Pro has Robust Security Features
Operators can be Restricted from Performing Sensitive Operations, such as Changing Prices, Deleting Events or Altering System Options. As many operators as you wish can be created.
Tick-It! Trak Pro Allows for Barcode Ticket Validation and Redemption
Tick-It! Trak Pro offers customer defined Reports, Invoices, & Tickets
Compatible with Crystal Reports for designing your own custom reports.
Tickets can be Printed on any Printer including Thermal Printers, Dot Matrix Printers, Laser and Color Inkjet Printers
Supports Plain Paper Invoices and Preprinted Forms
---
Point of Sale and Administration Stations:
Bare Minimum:
Recommended:
Operating System:
Pentium IV
Pentium Core 2 Duo or better
Windows 7, Windows 8 , Windows 10
1.5 GHz
2 GHz or Faster
1 GB RAM
2 GB RAM or More
10 GB of available disk space
20 GB of available disk space
Optional Equipment Supported:
VGA 1024 x 768 Display
SVGA 1024 x 768 or higher
Serial Cash Drawer, Serial Pole Display
1 GHz Network Interface Card
Thermal Ticket Printers
Touch Screen Display

Back Office SQL Server and / or Web Servers:
Bare Minimum:
Recommended:
Operating System:
Dual Core Processor
Pentium Quad Core, Xeon or better
Windows Server 2008 or higher
2 GHz
3 GHz or Faster
MS SQL Server 2008 or higher, STANDARD Edition or better, NOT the "free" SQL Express Version
4 GB RAM
16 GB RAM or More
200 GB of available disk space
500 GB of available disk space
VGA 1024 x 768 Display
SVGA 1024 x 768 or higher
1 GHz Network Interface Cards
External Drive for Backup
two 1 GHz Network Interface Cards

Trak Pro Brochure in Adobe Acrobat PDF format
PRICING AND AVAILABILITY
Delivery by Website Download
Tick-It! Trak Pro is a fairly complex system that typically requires on site set-up, configuration, training and testing. Call with your facilities specifics and requirements for a Quote on Tick-It! Trak Pro for Windows 2000 and XP.
Technical Support Plans and Customization Pricing
Call for
Pricing

Premium Support Plan.

Phone calls are handled on first come first served basis and are prioritized as to severity. If a technical support person is not available to take your call immediately or your problem requires further research at our office your call will be addressed within one business day. You will also receive a CD quarterly if there has been any changes due to bugs reported. (Note: If you have Internet access you can still download current updates without waiting for your CD)

Call for
Pricing

Block Support Plan . Effective Rate: ($1.25 per min).

This gives you 60 minutes or 60 days of phone support, whichever comes first. Phone calls are processed the same as stated above.

Call for
Pricing

Per Call Telephone Support.

You must have a credit card number when calling. MasterCard, Visa, and American Express, are accepted.

Call for
Pricing

Per Incident E-Mail Support.

Pay as you go e-mail support is available to you when you need it. You can quickly and conveniently send your e-mail question to support@ncsoftware.com., 24 hours a day, 7 days a week. You will usually receive your response within one business day. This also has the advantage of being able to attach any files our technicians might need to see in order to assist you. You must include your credit card information or pre-pay.

Call for
Pricing

Ticket Format or Report Customization.

New Concepts Software's products come with several pre-designed reports, invoices, statements, and ticket formats. Our products allow you to change or design from scratch the above forms with your own individual company customization. As with any software customizing, it requires some advanced computer knowledge and time to learn how to use the software. If you need assistance writing your own or want to have us write a custom report, form or ticket format we will need the following:
Clear drawing and/or layout of form or report
Detailed description of what you want the final printout to include
We will fax a quote with complete pricing which will be based on the complexity of the job
Payment Terms:
Prepaid, Institutional Purchase Orders, or Credit Card



---
For Sales Orders Contact or For Technical Information Contact:
New Concepts Software, Inc.
9605 Cochise Way, Louisville, KY 40285
TEL: ( 586 ) 776-2855
e-mail: Info@NCSoftware.com
URL: http://www.NCSoftware.com
Copyright © 1997-2023 by New Concepts Software, Inc. All rights reserved.
All specifications subject to change without notice.
The New Concepts Software, Inc. logo and Tick-It! are registered trademarks of New Concepts Software, Inc.
Other products and companies referred to herein are trademarks or registered trademarks of their respective companies or mark holders.